Since arriving in Austin in 2006, Prospect Real Estate agent Naomi Thurston has had a front-row seat to the city's meteoric growth. Over the past decade and a half, this once quaint, central Texas town best known for live music and keeping things weird has grown into a major technology hub.

Despite Austin's rapid expansion—the city's population increased by almost 50%; the metro population is nearly double what it was in 2006—it's maintained much of the Hill Country charm that distinguishes it from other notable Lone Star cities. One such aspect is the city's outstanding dining scene.

Long celebrated for its authentic Texas barbecue and Tex-Mex fusion of traditional Mexican dishes with the state's culinary bigger-is-better flair, your biggest challenge when navigating the city's food scene is choosing where to eat. Thankfully, in addition to her love for discovering Austin's up-and-coming neighborhoods, Naomi enjoys frequenting the city's best restaurants.

If you are unsure where to dine next, Naomi shares five of her favorite restaurants in Austin.

110 San Antonio Street
Austin, Texas 78701
Downtown Austin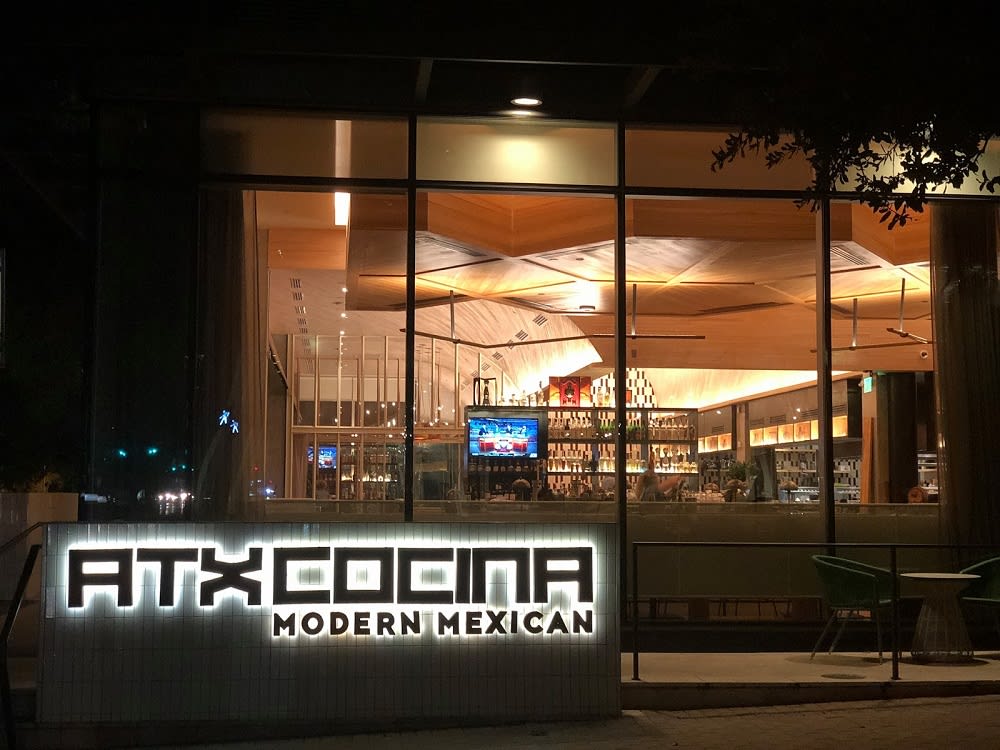 Photo courtesy of ATX Cocina
Our first stop is the see-and-be-seen
ATX Cocina
. Capturing the stylish, upbeat vibes that have made Austin a destination city for foodies across the country, ATX occupies prime downtown real estate at the corner of Cesar Chavez and San Antonio. The trendy, upscale spot cuts a modern, dreamy footprint on the ground floor of the luxury Northshore Apartments tower.

Directly across the street from Lady Bird Lake, ATX is one of the most popular sports in the 2nd Street Retail district, perfect for those coming and going from Downtown Austin's many attractions.

While the environment is designed to impress, the real star is ATX's menu. The establishment prides itself on its clean, natural cuisine, as well as being a 100% gluten-free restaurant. No heavy, saturated oils, nothing processed or packaged. Both food and drink are crafted from carefully sourced ingredients that celebrate Mexican traditions—corn is central to the majority of the menu, including ATX's outstanding masa-based dishes.

Organic agaves feature prominently in the otherworldly margaritas and mixed concoctions that emerge from behind ATX's cozy tequila- and mezcal-fueled bar. Why order any other libations with more than 30 varieties of the former and more than 50 varieties of the latter? Though, as one might expect with an eatery of this caliber, ATX has an impressive non-Mexican drink menu.

1900 Manor Road
Austin, TX 78722
East Austin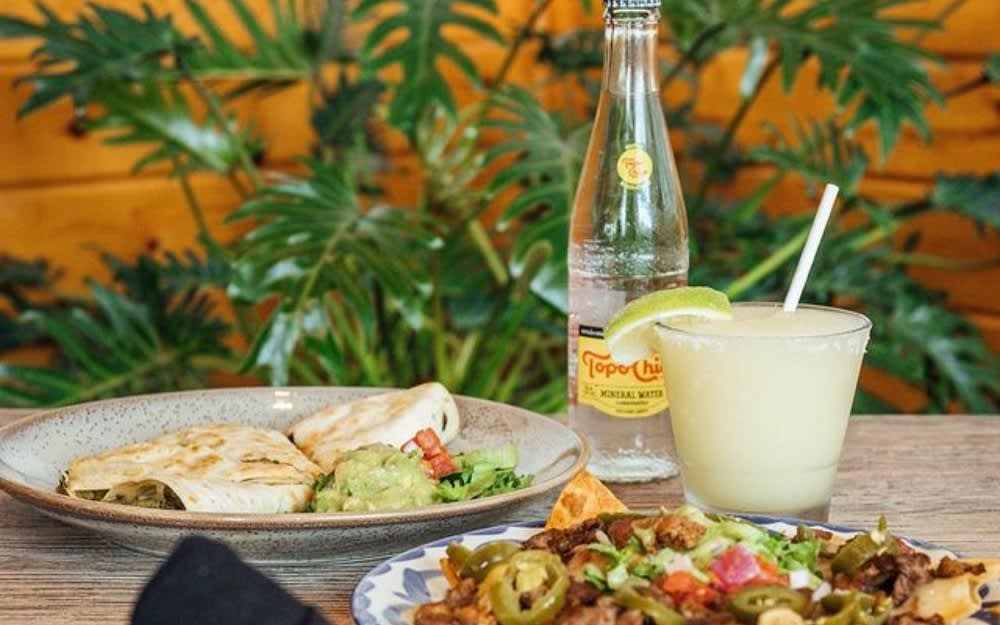 Photo courtesy of El Chile Cafe y Cantina
Our next stop takes us three miles northeast, to the East Austin staple
El Chile Cafe y Cantina
. Occupying the triangular island created by intersecting Manor Road, Lafayette Avenue, and Dean Keaton Street, the El Chile Cafe is one of Austin's longest-established 'new' Mexican restaurants. Since opening its doors in 2003 (the original El Chile was located a block away, also on Manor Road), the eclectic cantina quickly became a favorite of local foodies with an authentic Mexican and Tex-Mex menu, a broad drink menu, and a lively patio space.

Now firmly entrenched in its bright, airy new digs—the patio remains the popular spot to nab a table—El Chile continues to satisfy hungry Austinites. The restaurant boasts in-house tortillas, sauces made from scratch, enchiladas, tacos, and specialty plates infused with the freshest ingredients.

Located a little over a mile from the University of Texas campus (you can walk to El Chile from Darrell K Royal-Texas Memorial Stadium in less than 15 minutes), the restaurant is a popular spot for students, facilities, and visitors year-round. All drinks, including Chile's outstanding selection of margaritas, are discounted during happy hour every weekday from 2:00 PM to 5:00 PM. El Chile's incredibly popular and equally delicious brunch menu is served Saturday and Sunday from 10:00 AM to 3:00 PM.

4119 Guadalupe Street
Austin, Texas 78751
Hyde Park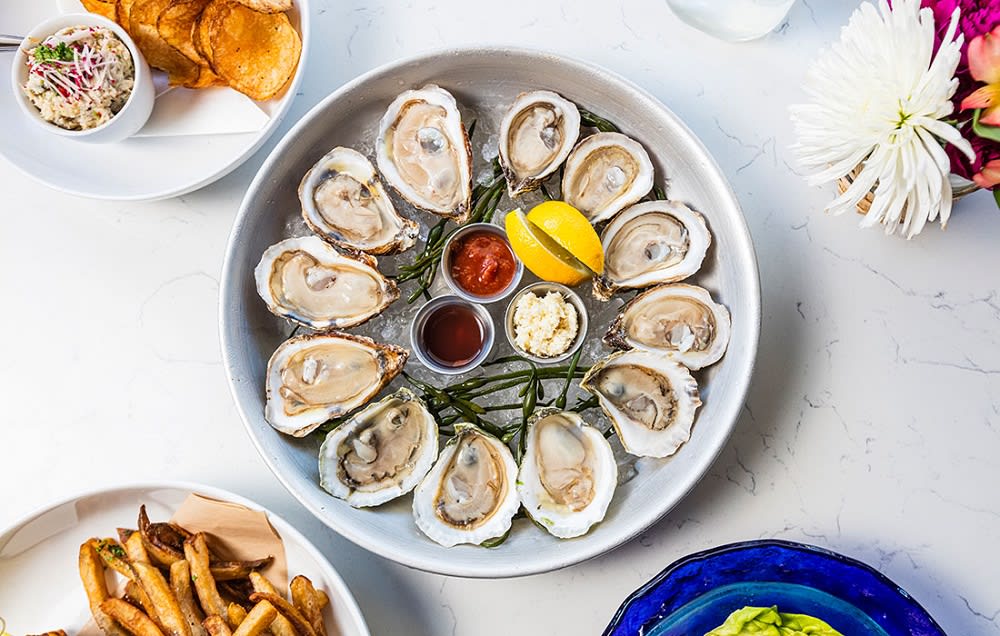 Photo courtesy of Mongers Market + Kitchen
Let's take a moment to appreciate that Austin's culinary scene features more than traditional Mexican fare or Tex-Mex cantinas.
Mongers Market + Kitchen
is such an establishment, representing Austin's alternative cuisine scene. Though seafood restaurants are not prevalent in the Hill Country, they stand out like a bright red lighthouse standing sentry on the shore when you find a good one. Helmed by popular local chef and owner Shane Stark, his fondness for water-based proteins is evident in this lovely and welcoming establishment.

Originally opened in 2015 in East Austin, Mongers quickly outgrew those cozy confines and relocated to its upscale Hyde Park digs in 2020. Since then, this seafood oasis has cast a wide net and is a favorite of Central and North Austinites. And why not? The seasonal menu is primarily sourced directly from the Gulf of Mexico (grouper, red snapper, shrimp) with an assist from more remote ports of call, such as the Northeast U.S. (lobsters, oysters, scallops). Lunch might be the favorite meal with a menu featuring an exquisite lobster roll and gulf blue crab with fried green tomato. Monger's raw bar is a notable attraction featuring beautiful fresh oysters.

The dinner that follows is a joy to partake in, featuring such combinations as tuna complimented with salsa verde, red snapper with truffle cream, and already divine scallops brilliantly augmented with salsa macha. If you want more traditional fare, the fish and chips and fish tacos are equally stunning. The dining room and bar are nautical but unpretentious, like a luxury skiff moored along the Gulf. To cap off the wonderful experience, the market side of Mongers allows you to take chef-prepared meals such as gumbo, house smoked salmon, ahi poke, or lobster mac 'n cheese home with you. If you love seafood and have yet to try Mongers, it will become your new favorite place.

616 Nueces Street
Austin, Texas 78701
Downtown Austin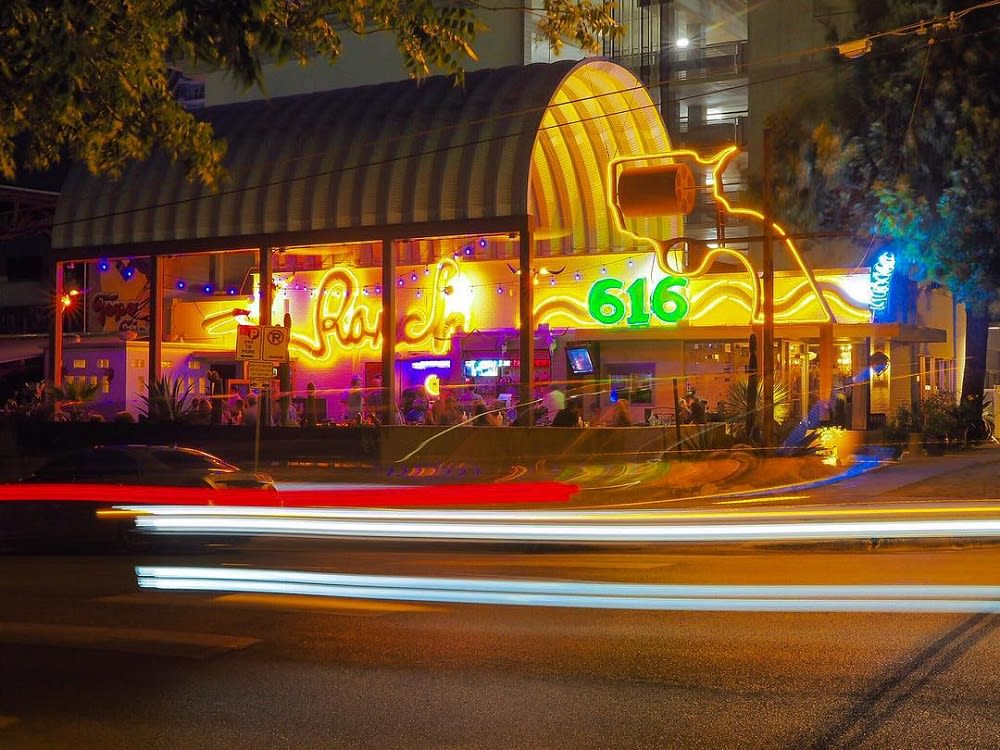 Photo courtesy of Ranch 616
Our next stop on Naomi's taste of Austin tour takes us to Downtown Austin's Market District and the unapologetically eclectic
Ranch 616
. Featuring everything weird and quirky about Austin, the bold strokes of the restaurant's design (both best witnessed at night) conceal some serious cuisine. This South Texas ice house is one of the state's best Southwestern-inspired eateries.

Sourced directly from the Gulf of Mexico, nearby Hill Country, and South Texas, local favorites include the crispy oysters with chipotle tartar sauce (which Southern Living once recognized as the best in the south), the chicken fried steak, and fish tacos. But really, Ranch 616 is the rare culinary unicorn where not a single item would fail a taste test. Rest assured, if it's on the menu, it's somebody's favorite.

Ranch 616's biggest claim to fame, however, is the home of the original Ranch Water. With a nod to the South Texas trips of his early childhood, Kevin Williamson, the late founder and chef of Ranch 616, concocted the wonderfully refreshing tequila-infused beverage in 1998, timed to the opening of Ranch 616. Its key ingredient is the Mexican and South Texas staple of Topo Chico mineral water. Scarce at the time, Kevin, the ever-resourceful proprietor, would travel around Austin buying what available Topo Chico he could at neighborhood Fiesta Marts to ensure his thirsty patrons stayed hydrated.

1800 East 6th Street
Austin, Texas 78702
East Austin
Photo courtesy of Suerte
Our final stop takes us back to the Mexican flavors that have long proven the favorite choice of local Austinites and visitors from afar. The city has approximately 120 Mexican restaurants, roughly 80% of which are classed as authentic. One of the more notable is
Suerte
in East Austin. Lauded by Eater Magazine as one of the best new restaurants in the U.S. when it debuted in 2018, the Suerte comes by its authenticity honestly. Executive Chef Fermin Nunez, himself was chosen as the best chef by Food & Wine in 2021, was born in Torreón, Mexico, and draws on those local influences to craft Suerte's intensely flavorful Mexican fare.

Simply reading the descriptions on the menu compels a curious foodie to want to sample every Suerte dish at least once. Though, should you opt for the Quesadilla de Res (smoked wagyu short rib), Suadero Tacos (confit wagyu brisket and black magic oil), or the Goat Barbacoa (with salsa cruda and salsa Roja), you'd struggle to commit to another dish.

Set up in an airy, light-filled building, Suerte cuts a contemporary, upscale vibe that provides unique contrast when enjoying authentic Mexican creations. The restaurant's happy hour substitute, lucky hour (in Spanish, Suerte means luck), occurs Sunday to Thursday from 5:00 PM to 6:00 PM and is the perfect opportunity to imbibe one of their mezcal-tinged cocktails.
Find Downtown Austin real estate
If you're ready to explore even more of what makes Austin one of the most sought-after places in the country to live
contact Prospect Real Estate today
. From assistance in selling a current home to support in securing Austin homes for sale, a premier
Austin real estate agent
with us can help you navigate Austin's luxury real estate market.